The Ultimate Guide to
Online Giving Sermons to a Large Audience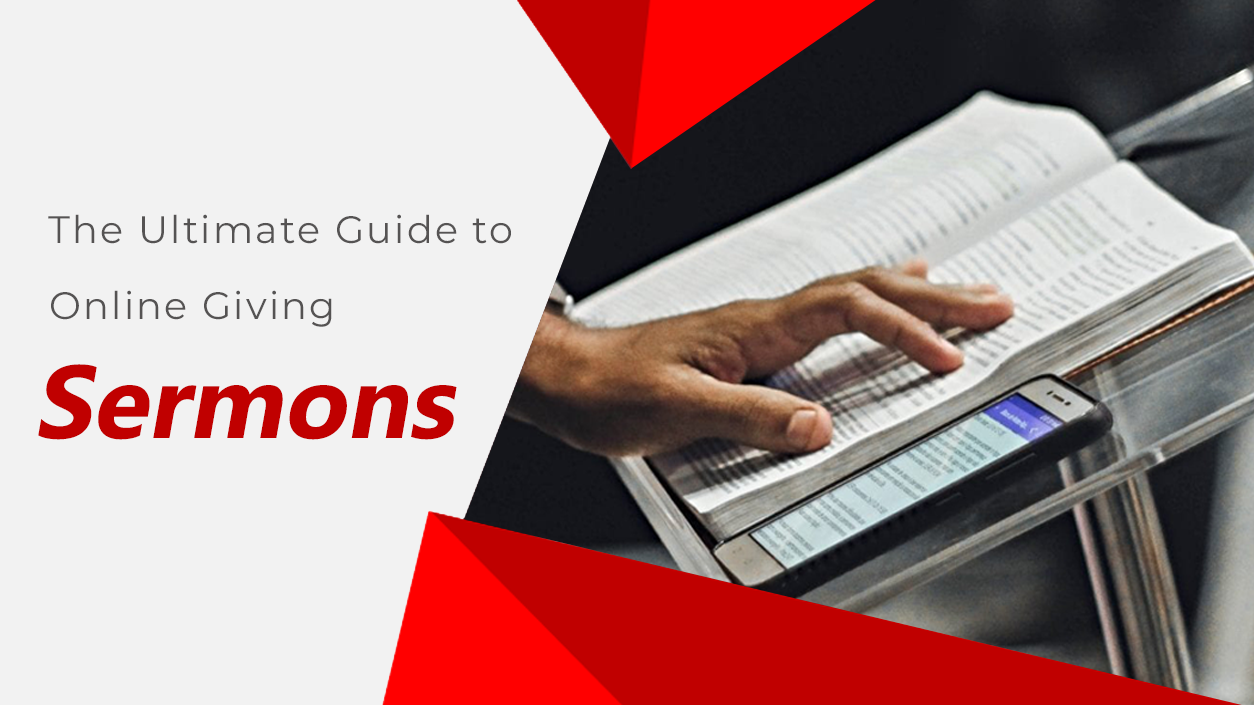 Pastors conduct research, plan, compose, and deliver sermons to their audiences every week. Then, only hours after finishing one sermon, they start working on a fresh one for the following Sunday.
Pastors spend a lot of time preparing sermons, but many of them forget about them as soon as they're delivered.
How does a pastor make his or her sermon relevant and effective to the newcomer to church, the senior Sunday school couple, and everyone in between? And how do you reach out to people who can't attend church every Sunday? Is it possible for those sermons to live on after they've been delivered?
We've assembled tips and resources to ensure that your sermons reach as many people as possible on Sunday and beyond, given the time and work it takes to research and prepare them every week. You'll find the following information in this article:
Why Should Pastors Make Sermons Available Online?
1. Going Digital in 2022 is a must:
Several churches have begun to webcast sermons over the internet. As a result, congregations can continue to attend services as usual, but from the comfort of their own homes. Even if your church meets in person, it's still a good idea to offer an alternative for people who are at high risk and currently avoid gatherings.
2. Sermons will last for a longer period of time:
If you're going to devote as much time as you do to your teaching ministry, sermons should provide you with as much vitality as possible. Making sermons and other church content available on the church website or app allows community members to revisit messages week after week.
Don't panic if your church doesn't yet have a church app. To explore how a bespoke church app may help your church better engage with the surrounding community and increase the impact of each piece of content you publish, contact a ChurchCMS specialist today.
3. Different people consume content in different ways:
On Sunday morning, not everyone in your church is paying attention. They could be sitting with restless children or otherwise become distracted during the sermon. Furthermore, some individuals listen better while actively engaged in something, and a church service isn't necessarily the best venue to keep them engaged. Providing various methods of communication allows individuals to receive your communications in the manner and location that is most convenient for them.
4. You can reach out to persons who are not members of the church:
Consider someone returning from a service and being so moved by what you taught that they can't wait to tell others about it. They'll be able to do so if you digitize your sermons. They can send them by email, text message, or share them on Facebook. This offers your members the power and responsibility to share your church's messages with others who may not be able to attend regularly.
In the end, it's about allowing your teaching to reach out to more people and make a difference in their lives. It's a lot easier and takes a lot less time than you think. People employ a variety of popular and simple-to-use mediums on a daily basis to keep informed, study, or simply be entertained.
These channels can be used by your church to share sermons and other types of church content on a regular basis.
5. Points to Consider When Writing Evergreen Sermons:
Sermons are composed and given in order to inspire listeners to make long-term changes in their lives. However, many people need to listen to sermons several times before they fully comprehend the message, while others have favorite sermons that they listen to on a regular basis.
With so many amazing outlets to broadcast your sermons on the internet, they can live on indefinitely. This is fantastic news for you and anyone who enjoy listening to your church's messages over and over again.
The task now is to write and deliver messages that will resonate ten years from now as they did when they were first preached. Here are five pointers for creating content that will last a long time:
Keep up with the times, but plan ahead.
Don't use pop culture references in the title of your lecture.
Preach sermons to a larger audience.
Avoid titles that are too clever.
Respond to time of life questions
Use a Churchcms app to combine these strategies in one place:
It can be difficult to sort through the many options for making your sermons digital. Churchcms applications simplify the process by allowing you to share your sermons across numerous channels while keeping them all in one place.
Apps for smartphones are no longer a luxury. This is a platform for your congregation to quickly register for events, catch up on sermons, give, get more active, and grow, whether you use a churchcms app builder or construct a custom app yourself. Your churchcms app isn't a capitulation to a fad as your congregation rapidly uses mobile technology; it's a necessary tool to maximise your congregation's engagement.
If you don't already have a churchcms app, you should think about getting one. It's crucial to make your culture and material accessible to a world that's growing increasingly mobile—and getting started with your own personalized app is easier than you think. More information can be found here.
Final Thoughts:
With the help of this article, it is clear that an app may be extremely useful for managing church activities and gathering people even when they are not there.
When it comes to creating an app, churchcms allows you to do it in a matter of minutes. Using the same app builder, you can create Android and iOS apps for community members.
This is a churchcms-powered custom app.