How to Start an Online
Church Service the Right Way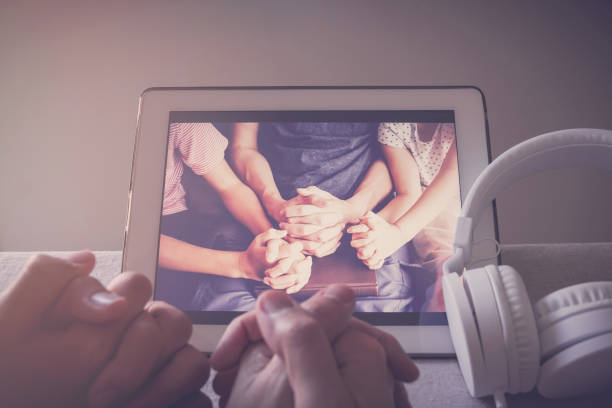 Managing an online church service may appear challenging, but it does not have to be. We've spent years researching the most efficient virtual church services. In reality, the digital technology market is expanding.
The resources available to help churches grow are numerous. They include everything from video editing to live broadcasting and anything in between.
This has aided us in creating an easy-to-follow guide that will explain congregations how to conduct Sunday church services online, even if they are just getting started with streaming and recording.
Check out the free resources below to learn how to master virtual worship in no time!
Do you want to take your church to the next level? Is it possible for your church to profit from church growth ideas and tools? Continue reading to learn more about how to develop your church in a variety of ways.
Starting a Church Service Live
There are numerous tools accessible to you while hosting an online church service.
For recording, editing, and streaming, there is lots of low-cost and free software available. In terms of technology, numerous churches use a mobile phone with a good camera to generate surprisingly high-quality virtual church services.
Making Use of an App
Apps for managing various aspects of a virtual church service, such as streaming and group discussions, are available. One is the ChurchCMS Attendance app, another is the Cloud Storage for Churches, and the third is the Church Mobile App. You can organise church groups using this app, including Bible studies, virtual worship sessions, eGiving, and more. Your church may use the Enrollment Card in Church Connect to record their attendance from their phone faster than you can say.
Hosting Your Virtual Church Service on Facebook Live
If you want to broadcast a live feed of your service from your phone, Facebook Live can help. All you'll need is a smartphone and a few low-cost add-ons.
We've put together a few guides that can assist you with putting up a Facebook Live stream.
Your Members Have Showed up
The vast majority of your church's members are almost certainly already on Facebook. While not everyone uses Facebook, it is frequently used, so your members are likely to be there.
Meeting people where they are is the core of meeting them where they are. Rather than requiring your users to download a new app that they are unfamiliar with, begin streaming at a convenient location.
Motivation and debate Facilities should be given
The contact is what makes internet services so appealing. Facebook Live includes a feature that allows viewers to post comments and replies in real time throughout the broadcast. This enables for a more engaging service, which is beneficial when encouraging and ministering to others.
The greeting portion is one example. You can have members and viewers greet and support one another in the chat room.
Members can also express their affirmations in conversation throughout the sermon. During an altar call, spectators have the ability to reply. They can even make requests for prayer.
YouTube Can Help You Propagate Your Virtual Church Service
YouTube is a strong, inexpensive, and convenient tool to reach members and guests outside of services. Livestreaming has previously been mentioned, but you may also build your own YouTube channel, publish videos to it, and share video links with your members. This provides a simple method of content distribution as well as a free storage solution for all those gigabits of video.
How to Begin Live and Monitoring
Music and prayers can be difficult to incorporate into an online church session. Unlike a sermon, your technology will need to record multiple people and voices.
Using an online tool to put together a presentation doesn't have to be as complex as it seems. We discovered a few simple best practises for virtual church services that make a big difference.
Prerecording
Revision
Recruiting assistance
Write a detailed set of instructions
Illumination
Committee to Greet Visitors Online
Prayer Groups
Studying the Bible
Are you interested in starting or improving your virtual ministry?
The All-in-One ChurchCMS Service Tool
From one app, churches may manage an online directory, make group chats, keep a digital calendar, arrange virtual Bible studies, organize prayer groups, schedule events, exchange streaming and recording links, and create group chats. All of these things, and more, are possible for the Churchcms. It's even possible to utilize it to collect online donations for a little processing fee. Allow Churchcms Mobile to assist you in connecting and growing your church community.
ChurchCMS has put together a comprehensive guide that covers every step of launching a virtual ministry. To get your own version, go to the Resources.